Trapeziid Teeth Rubber Timing Belt

Arc Teeth Rubber Timing Belt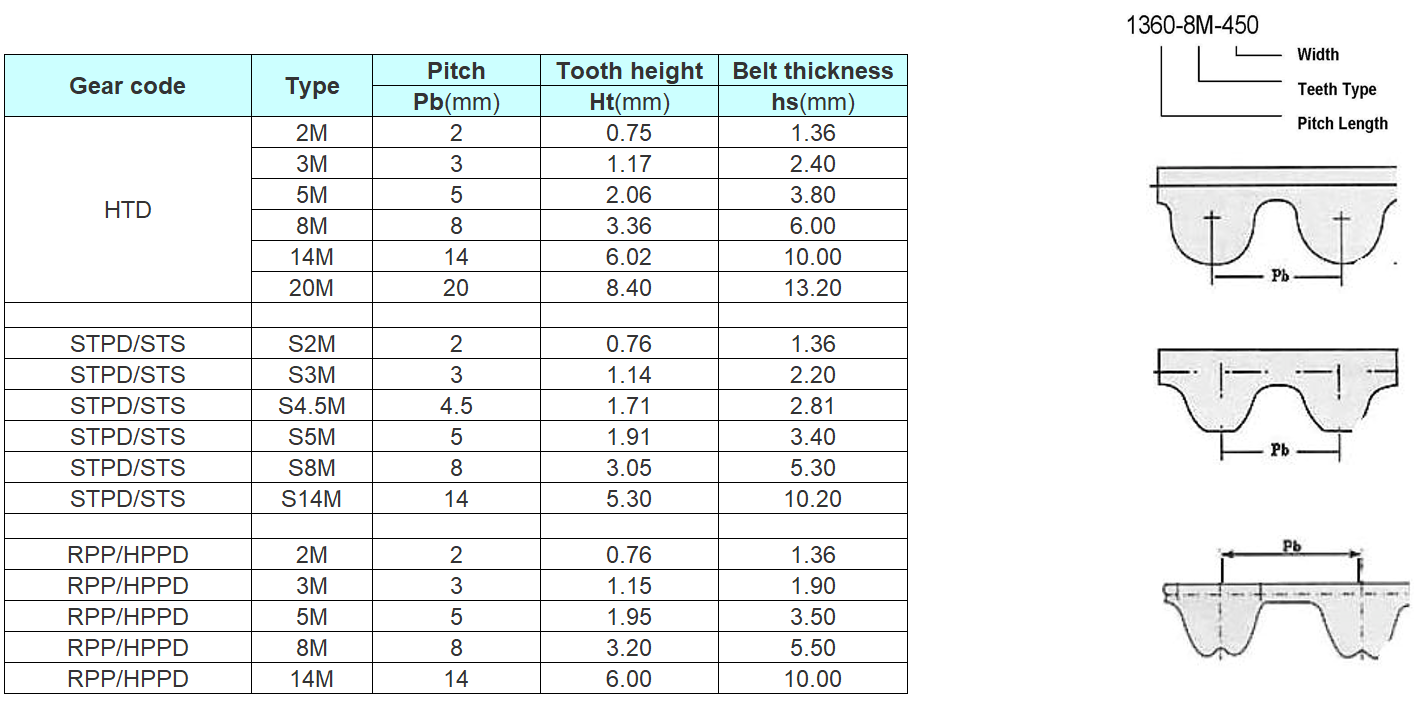 Double Timing Belt
Main type:D-XL,D-L,D-H,D-T5,D-T10,D-T20,D-AT10,D-3M,D-5M,D-8M,D-S8M,D-14M
DA-duplex synchronous belt tooth, a tooth with its two symmetrical arrangement.


DB-duplex synchronous belt gear, with its two locations with staggered teeth were.

Thickening Belt

We can provide timing belt with different extra back thickness as per customer's request. The rubber color we can offer is :Black,White,Green,Blue,Yellow,Pink,Red and Any Color.
Extra Long Endless Belt
Endless extra-long timing belts can be used in textile industry, light industry, chemical industrial, industry electrical appliances, machinery etc., for transferring power.
Timing Multi Rib Top belt
This is a special kind of timing belt, which the other side of the belt is poly v belt, such as 1552-8M-16PK,1760-8M-12PK,1952-8M-16PK,775H-8PK
PU Timing Belt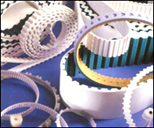 PU timing belt is made of thermoplastic polyurethane, and steel cord or kevlar cord.We offer full range of PU endless and open end timing belt.
Application:Used in Textile, Printing, Chemical Machine and Medical Equipment
Main type:MXL,XL,L,H,XH,XXH,T2.5,T5,T10,T20,AT5,AT10,AT20,2M,S2M,RPP2M, 3M,S3M,RPP3M,S4.5M,5M,S5M,RPP5M,8M,S8M,RPP8M,14M,S14M,RPP14M,20M
PU Round Belt

For PU round belt, we can offer full range rough and smooth round belt
Color:green &orange
Diameter:2mm~25mm
PU V-Belt

For the belting Anti-oil, anti-abrasion, anti-bending/flexible and high tensile strength, it is also anti-chemical corrosion, easy to wash and solders, are widely used in the Ceramic, Food, Electronic, Textile and Stone industries Etc.
Perforated Belt

Open-ended V-belting with joint holes can be adjusted to required length simply with splicing bracket. Sections:O,A,B,C
Linked V-Belt

Linked v belt can be installed without removing bearings, resetting, tilting or moving motors. Fits all conventional drives and delivers power with minimum vibration. Available in regular and oil-proof construction and in O, A, B, C, D Cross Sections.
Pulley

We can provide full range of pulley for timing belt MXL,XL,L,H,XH,3M,5M,8M,14M etc