Classic V-Belt
This belt is very commonly used for power transmission. We supply a wide range of types including heat resistance, oil resistance and flexible types.
Application:General Engineering Industries & Agricultural Industries
Main Type: FM, M, K, Z, A, B, C, D, E, 3L, 4L, 5L

Narrow V-Belt
Narrow v-belt has double power transmission capacity of the Standard v-belts due to the effect of the wedge.It features high-speed transmission, and an energy-saving, compact design.
Application:Narrow v-belt can be used on all the new drives,from light duty drives to heavily loaded drives. Main Type:SPZ,SPA,SPB,SPC,3V,5V,8V

Banded Wrapped V-Belt

Banded v-belt is made up from Classical, or Narrow belts with a strong tie band over them.
Application:Used in Vertical shaft drives, V-flat drives, Crussher, Compressors, Pumps and Agricultral drives.
Main type:RA,RB,RC,R3V,R5V,R8V,RSPZ,RSPA,RSPB,RSPC
Double V-Belt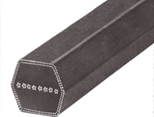 Double V-Belt, also named Six side Belt,has four side on the working setion
Application:Texile and Agriculture machine
Main type:AA,BB,CC
Raw Edged Cogged Belt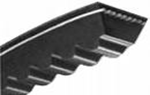 These belts feature improved transmission efficiency since they are composed of cord and rubber, with side faces made of fabric. Short fibers are mixed in the rubber in the direction of the belt's width, contributing to power transmission and helping to resist abrasion caused by side pressure.
Application:Used on heavy duty,high speed drives
Main type:FMX,AX,BX,CX,3VX,5VX,XPZ,XPA,XPB,XPC
Main banded type:RAX,RBX,R3VX,R5VX

Poly V-Belt
Features high power transmission efficiency and small pulley diameter, combining the high power transmission of V-belts with the good flexibility of flat belts.These features also contribute to the compact design and saving energy for system.
Application:Used for Industrial machine, word tools, Broadcasting equipment drives and House keeping electrical appliances.
Main Type:PL,PM,PJ,PK,PH

Variable Speed Belt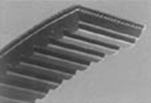 Continuous variable speed belts with good side pressure resistance and flexibility. High efficient power transmission allows to smoothly follow speed changes, creating excellent acceleration response. Variable Speed belts are used in Gear changers, motorcycles and agricultural machinery.
Agriculture Belt
Material is CR.It has the feature of oil and heat resistant,aging-resistant.High resistance to wear & tear.